Barnsley driver jailed over motorcyclist's death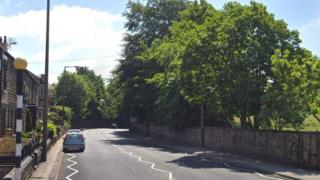 A driver who killed a motorcyclist in a crash during which he was dragged 65ft (20m) down a road has been jailed for nine months.
Amanda Fitzpatrick hit Clive Burdett, 49, as she turned out of a road in Barnsley on 15 November 2017.
Mr Burdett died when he was dragged down Upper Sheffield Road trapped underneath Fitzpatrick's car.
The defendant, 30, of Templing Road, Barnsley, pleaded guilty last month to causing death by careless driving.
Passing sentence, Judge Michael Slater said: "I accept without hesitation from what I have read and witnessed in court that you are genuinely remorseful for what happened that day and that it has not left your mind since, even to the extent of making you ill.
"However, having regard to all the circumstances of this case I am regretfully of the view that it is so serious that only an immediate term of imprisonment is appropriate."
'Miss him every day'
The court heard Mr Burdett was on his way home from work in the payroll department at Barnsley Hospital when the crash happened at the junction of Knowle Road and Upper Sheffield Road.
Prosecutor Gordon Stables said Fitzpatrick had pulled out "quite slowly" and was turning right when she collided with Mr Burdett's Moto Guzzi motorbike.
He said Mr Burdett had braked prior to the crash but on impact fell from his bike in to the road.
"The defendant continued to drive the Land Rover and it went over the motorcycle in front of her and she went over Mr Burdett who was in the road behind the motorcycle," he said.
Fitzpatrick later told police she had been concentrating on a van turning in front of her but had not seen any other vehicles behind it before she pulled out.
In a statement read out in court Mr Burdett's wife of 12 years, Janine Harding, said she and their son, James, "miss him every day", saying it was "hard to put in to words what it feels like to have a husband and father taken away".