Rotherham UKIP councillors' mass switch to Brexit Party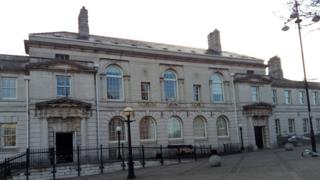 Rotherham's 12 UKIP councillors have left the party en masse and joined the Brexit Party.
Group leader councillor Allen Cowles confirmed the switch, which follows another UKIP member's decision to leave and sit as an independent.
UKIP had been the largest opposition party on the Labour-controlled authority.
Mr Cowles said their move respected the results of the EU elections in Yorkshire.
"Nearly half a million people in the Yorkshire and Humber region backed the Brexit Party in the recent EU elections, which the party won by a landslide," he said.
"Our group on the council has decided the best way to respect their views and support Rotherham is to join the only party that can be relied upon to deliver Brexit, respect democracy and deliver on the 2016 referendum results."
The mass departure comes after former UKIP councillor Peter Short decided to become an independent member, according to the Local Democracy Reporting Service.
The move was confirmed in council papers released ahead of a meeting next week.
It has already attracted social media commentary, with council leader Chris Read using Twitter to say he was looking forward to learning more about the decision.
Rotherham's sole Lib Dem councillor, Dr Adam Carter, was critical of the move.
He said: "This is a case of same song, different chorus. They achieved nothing as UKIP councillors, often voting the same way as Labour. And they'll achieve nothing as the Brexit Party. It's time for a real opposition, and only the Liberal Democrats can provide it."
Mr Short left UKIP to sit as an independent member in Rotherham last month.
The new Brexit Party councillors were welcomed by the party's MEP John Longworth, who said: "Elected councillors from all of the major parties have joined the Brexit Party in recent weeks.
"Together we are ready to change politics for good and revive British democracy."
All 63 seats on Rotherham council will be up for election next May.