Prince Charles visits flood-hit Fishlake village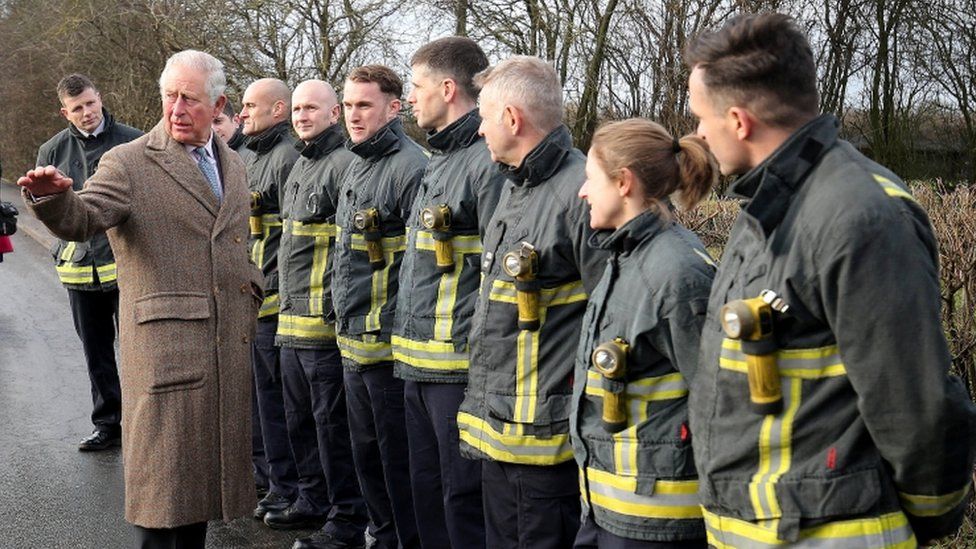 Prince Charles has been visiting South Yorkshire to meet people affected by last month's floods.
He met firefighters, police officers and soldiers at the village of Fishlake, near Doncaster, and toured the worst-affected areas.
Hundreds of home were evacuated and businesses were affected when a month's worth of rain fell in 24 hours, causing the River Don to burst its banks.
About 200 Army personnel helped support the flood effort.
The prince has made a donation to the flood relief fund, Clarence House said.
Asked by a reporter about his father the Duke of Edinburgh as he walked into the village, Charles said: "He's being looked after very well in hospital.
"At the moment that's all we know."
The prince spent two hours in the village chatting to many of the locals lining the streets and looking inside some of the badly damaged homes.
Many of the villagers gathered outside the Old Butchers cafe, which owners Louise and Claire Holling turned into a relief centre during worst of the flooding.
The royal visitor praised the pair when they turned up later at the village hall, serving refreshments for locals and dignitaries who had gathered to meet him.
As he left, Charles told the crowds: "I hope you've been in and tried those cakes. They're amazing those two, aren't they?"
Charles also had a beer at the Hare and Hounds pub, which was at the centre of the flood relief effort in the village.
Angie and Scott Godfrey, who run the pub, made sure stranded residents were fed by sending round hot meals on boats.
Mr Godfrey said to Charles outside the pub: "We were just going to get you a pint when you got here. You might have needed one by this time."
The prince replied "I do" and went inside for a quick sip of a half of bitter before moving on to St Cuthbert's Church, which also acted as a relief hub.
Many villagers whose properties are still uninhabitable will spend Christmas away from their homes.
Others will mark the holiday in mobile homes, static caravans and campervans provided by insurance companies.