Sheffield shooting: Boy, 12, was 'innocent bystander'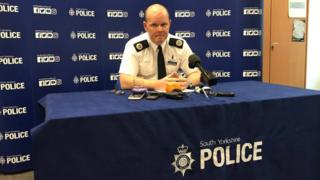 Police appealing for information about a drive-by shooting in which a child was hit in the leg have said the boy was "an innocent bystander".
The 12-year-old was shot in Errington Road in Arbourthorne, Sheffield at about 15:45 GMT on Sunday.
He was with friends outside shops on Northern Avenue when he was shot from a white Ford Focus.
South Yorkshire Police said it was likely the boy was caught up in a fallout between organised crime groups.
The 12-year-old was taken to hospital for surgery on his left thigh but is expected to make a full recovery, a spokesperson for the force said.
Ass Chief Constable Tim Forber said the shooting was thought to be connected to a dispute between two gangs.
He said it was linked to other incidents in November in Arbourthorne, from which five people remain on bail.
Mr Forbes stressed the boy was "caught in the line of fire" and his friends - aged 13, 15 and 16 - were also innocent bystanders.
Anyone with information has been asked to contact police or call Crimestoppers anonymously.
Mr Forbes said people must "rise above fear".
He told a press conference: "We can't have crimes like this. An innocent child has been shot while he was out with his friends on a Sunday afternoon. We have to stop this."
He said organised gangs relied on people being too scared to come forward.
"We know people in the area will have seen the incident, while others will know who is responsible," he said.
"We can and will bring these people to justice and make your community safer, but we can't do it without your help."
The force is working with the council and other partners to tackle gangs and violence in Sheffield and extra patrols are in place in Arbourthorne.
Follow BBC Yorkshire on Facebook, Twitter and Instagram. Send your story ideas to yorkslincs.news@bbc.co.uk.