LGBT+ group wants Franklin Graham's Sheffield visit cancelled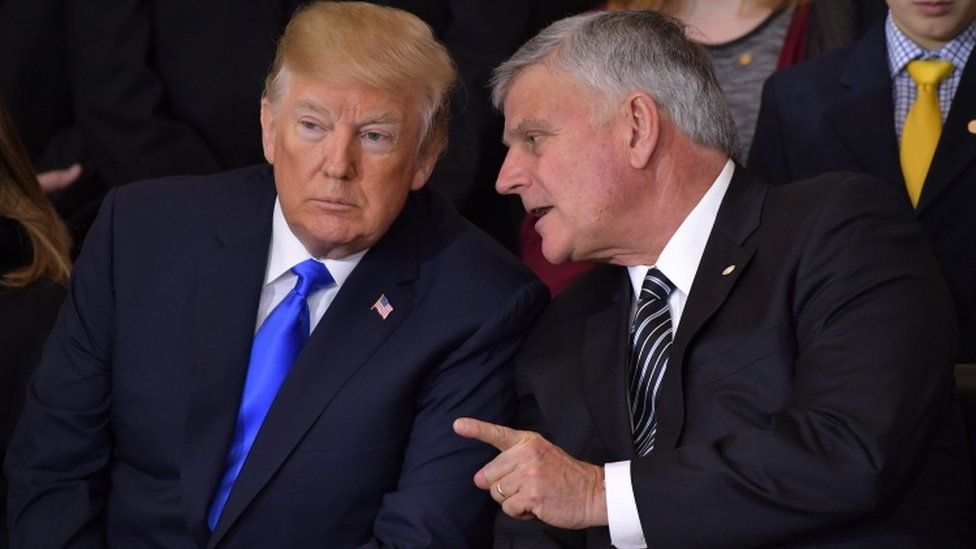 LGBT+ leaders have called for a visit to Sheffield by an American evangelist to be cancelled claiming he promotes homophobic views.
Franklin Graham is due to appear at Sheffield Arena in June as part of an eight-city tour of the UK, which is not open to the public.
Mr Graham, the son of the late preacher Billy Graham, has said he believes gay marriage is a "sin".
Sheffield City Trust, which runs the venue, does "not endorse the views".
Mr Graham said: "I'm not coming to Sheffield to preach against anyone, I'm coming to tell everyone about a God who loves them.
"The Gospel's life-saving truth and power applies to everyone in this great city."
The protest letter said: "Franklin Graham has repeatedly publicly promoted his homophobic beliefs."
Sent to the Sheffield City Trust, it was signed by 22 representatives of the city's LGBT+ community.
The BBC is not responsible for the content of external sites.
David Grey, chairman of the trust, said it supported the "right to free speech and freedom of expression whilst promoting equality and freedom from hatred and abuse."
There was "a potential conflict between these two moral stances", but he had met with faith groups from the city and taken advice from South Yorkshire Police, he said.
The event was not open to the public and "if individuals or groups aren't breaking the law then their right to speak freely should be respected," he added.
The Billy Graham Evangelistic Association UK's website said the tour meant "the truth of Jesus Christ will be preached amongst a nation searching for answers".
Councillors wrote a cross-party letter to organisers earlier this month warning the visit could lead to protests.
The Bishop of Sheffield Pete Wilcox said in November: "Mr Graham's rhetoric is repeatedly and unnecessarily inflammatory and in my opinion represents a risk to the social cohesion of our city."
Sheffield City Council said it had "just become aware" of the booking and it was not a decision made by the council.
The tour during May and June is to also include venues in Glasgow, Newcastle, Milton Keynes, Liverpool, Cardiff, Birmingham and London.
Related Internet Links
The BBC is not responsible for the content of external sites.