Coronavirus: Nurse contracts virus after lockdown hits wedding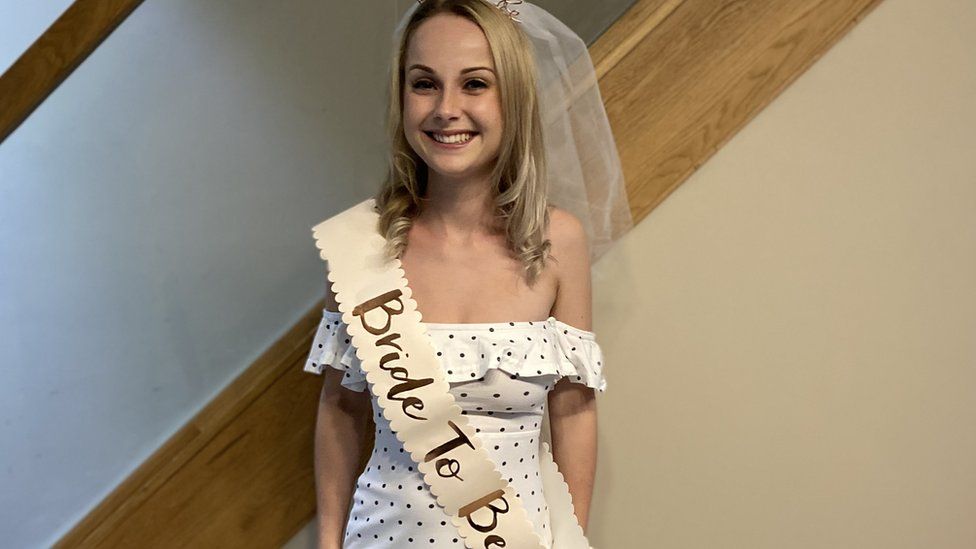 A nurse who had to cancel her wedding because of lockdown restrictions has now contracted Covid-19.
Nathalie Flintham and her partner Lewis Raistrick were due to get married in Braithwell, near Rotherham, at the weekend.
But Ms Flintham, who has worked on a coronavirus ward at Rotherham General Hospital for several weeks, is now self-isolating after testing positive.
She said the first thing she wanted to do after lockdown was "hug her mum".
"It's such a shame we've had to cancel," said Ms Flintham, who originally postponed her wedding to have a baby.
"I've waited until the last minute to realise it's definitely not happening, it's hard to believe."
Ms Flintham, who lives in Braithwell, said working on the Covid ward was "awful" and she "felt very lucky" her illness was not as severe as some of her patients.
"I'm so sorry for the patients who can't see their families for weeks on end, they've not even seen people without a mask on for God-knows how long," she said.
Ms Flintham did not have a fever or cough but felt exhausted and breathless.
Just before she became ill Ms Flintham's friends threw a virtual hen do for her, with games and music, and friends dialled in from Australia, Liverpool, Leeds and Chorley.
"They left a box with a sash and veil on my doorstep," she said.
"But they won't tell me the plans for my real hen do as we'll have it when lockdown ends."
Ms Flintham's mother Jackie Stevens-Whyke said she was "so proud" of her "awesome" daughter for working at the hospital, but "really disappointed" that the wedding had been postponed.
Related Internet Links
The BBC is not responsible for the content of external sites.