Northern General Hospital: Woman choked on sandwich due to hospital 'neglect'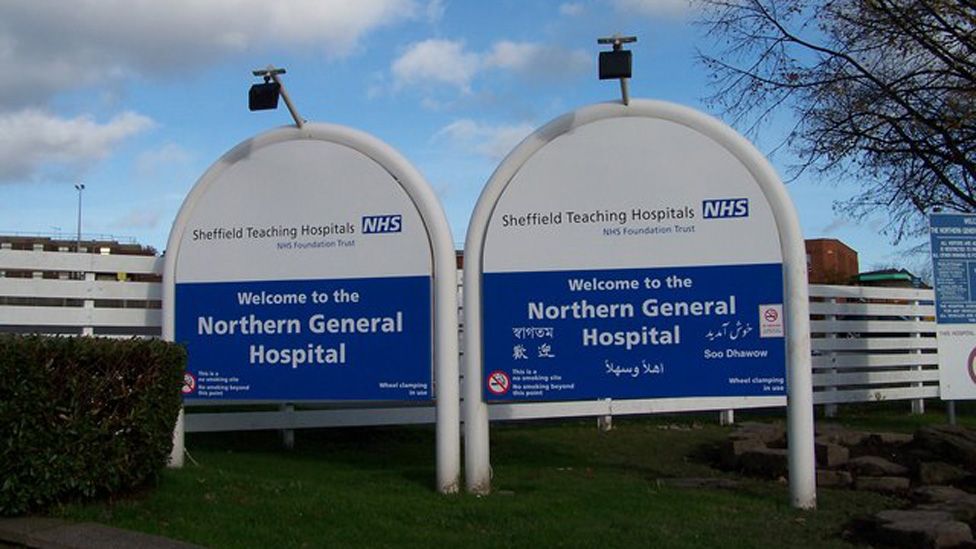 A cancer patient on a restricted diet choked on a sandwich due to a hospital's "neglect", a report says.
Joan Howard died on 10 April 2019 after staff at Sheffield's Northern General Hospital gave her the meal.
A prevention of future deaths report (PFDR) said it was at least the third time she had been given food she should not have had during her treatment.
In response, the hospital said it was "committed to learning" from her death and was making changes.
Assistant Coroner for Yorkshire, Abigail Combes concluded at Mrs Howard's inquest in February that the giving of the sandwich meant Mrs Howard's death "was therefore contributed to by neglect".
In the PFDR published on Thursday, she stated: "Upon admission to the Northern General Hospital for unexplained seizures, her dietary requirements were not appropriately managed resulting in her choking to death on a sandwich which should not have been given to her."
Mrs Howard had been admitted to hospital on 4 April and had a history of oral cancer which meant she had problems drinking and eating.
Ms Combes said it was "acknowledged by the team investigating her death that she is not likely to have died how and when she died but for the inappropriate provision of a sandwich".
Signs about her dietary restrictions were only placed above her bed after her family raised concerns she had been given a sandwich on 5 April for lunch.
This was despite her nutritional requirement being well documented, the coroner found.
Two of the three errors regarding food and drink happened after signs went up, which Ms Combes said she believed stemmed from "cultural and communications issues".
Kirsten Major, chief executive of Sheffield Teaching Hospitals, said the hospital had started implementing changes based on issues with training, standard operating procedure and information regarding dietary needs.
She said she appreciated the coroner and family's concerns "that a basic element of Mrs Howard's care was not properly implemented despite her needs being clearly documented and her family advocating for her".
Related Internet Links
The BBC is not responsible for the content of external sites.