Covid: Why are Yorkshire cases falling slowly?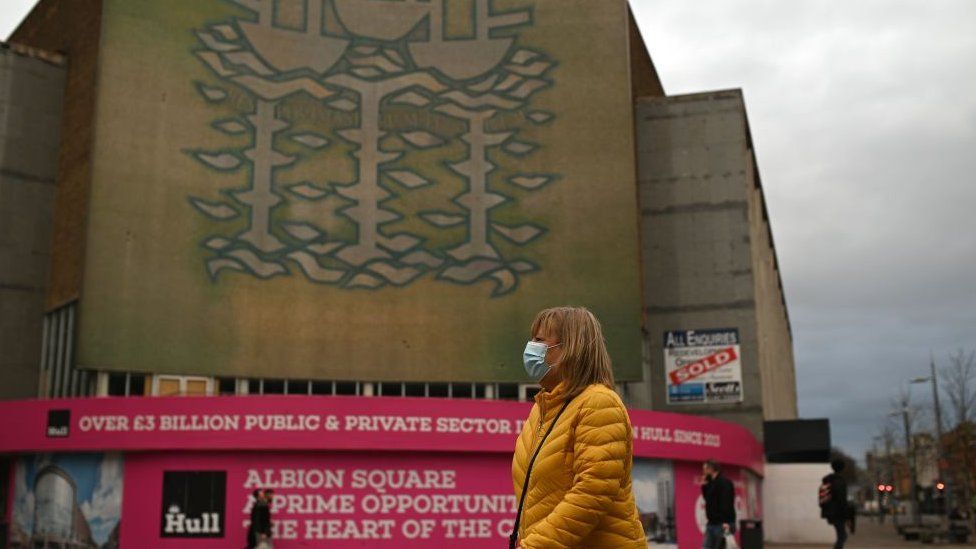 The type of jobs people do is a factor in stubbornly high infection rates in parts of Yorkshire, officials say.
Cases are falling more slowly in the region - which has the highest number of Covid-19 cases per 100,000 people in England - than elsewhere.
In parts of the county where people are unable to work from home, it is thought workplace exposure has kept numbers up.
Public Health England (PHE) said occupation could be one of several factors behind regional variations.
Yorkshire and The Humber recorded an infection rate of 98.8 in the seven days to March 5 and Barnsley, Hull, Rotherham, Bradford and Wakefield have the highest in the region.
In Wakefield, where the infection rate is 138.1 per 100,000, public health director Anna Hartley said the area had very high numbers of manufacturing jobs and people in essential and key worker roles.
"We know around 44% of our cases have got workplaces as a common exposure and that's really different to London and the south east where there are a lot of white collar jobs," she said.
"People can work at home, so we believe that is one of the main factors driving our transmission rates."
England's average infection rate was 60.8 per 100,000 in the seven days to 5 March and in London and the south the figure was below 50 cases per 100,000.
Toni Williams, consultant in public health with Public Health England, said there was evidence Covid-19 does not affect all population groups equally.
"From what we can tell, the different patterns of infection could in part reflect factors such as occupation, population density, use of public transport, household composition and housing conditions, and employment in work which does not allow either working from home or easy following of social distancing."
She said occupations where people spend a longer period of time together and where social distancing is more difficult tend to have higher rates of Covid-19.
Are there other factors involved?
Deprivation, insecure employment and living in multi-occupancy homes can also play a part.
Barnsley has the second highest weekly rate in England, with 146.2 cases per 100,000 people for the seven days to 5 March.
The town's public health director Julia Burrows said the rate was "frustrating" but reflected the population.
"High-density households, a large number of people who have to leave their homes to work in factories and warehouses, an older population, and people living with long-term health conditions," she said.
It is a similar picture in Hull, which has the fourth-highest rate in England at 144.4 cases per 100,000 people.
Assistant director of public health Tim Fielding said the city also has a large number of manual workers who cannot work from home.
"Our rate is still relatively high and is not coming down as needed; it is currently among the highest in the country and it is urgent we all take that very seriously," he said.
Mr Fielding urged businesses and individuals to take up the offer of free regular testing of people without symptoms.
"This can be crucial in preventing people unknowingly spread the virus," he said.
What are the current figures?
Figures in Yorkshire and The Humber are coming down - the infection rate dropped 23% in the seven days to 5 March and, in parts of the region, such as York and North Yorkshire, has fallen below the England average.
For public health officials the challenge remains encouraging people to stick to the rules as lockdown starts to be eased.
"We're making good progress, but we aren't done yet," Toni Williams said.
Analysis by Rob England, BBC England Data Unit
Overall the universal drop in cases seen since January has been slower in Yorkshire than in other areas, which is reflected in the high infection rates across some districts.
This is not the first time the region has stood apart from the rest of the country.
For the past six months the pandemic has behaved in subtly different ways in Yorkshire, with the best example being cases peaking in late November as opposed to January.
It seems local demographics, such as the type of work people do in the area, may be playing a part in the less dramatic fall in cases, which is difficult to tackle in terms of lockdown rules.
It is still unclear how the easing of lockdown will affect the trend in Yorkshire, but it is clear that cases are going in the right direction.
Related Internet Links
The BBC is not responsible for the content of external sites.