Thorntons closure: 'It was the place to get that Willy Wonka feeling'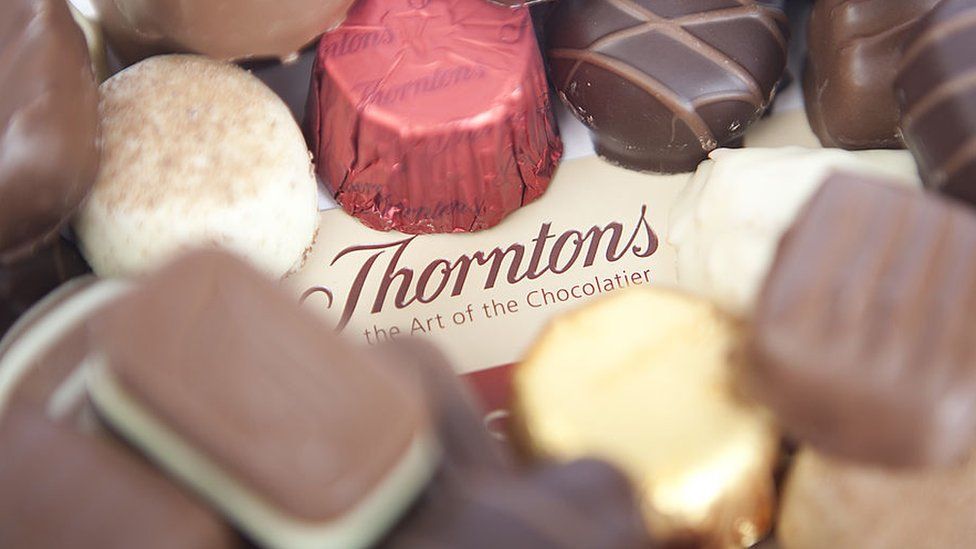 More than a century of cocoa-infused history has come to an end with chocolate maker Thorntons' decision to close its remaining 61 shops.
Seemingly ever-present on the High Street, the company said the impact of the coronavirus pandemic had been "too severe", bringing down the shutters on 110 years of trade.
For many children growing up, no Easter seemed complete without an egg with your name hand-piped across it, no bonfire night ready to go off without a bag of special toffee, and no celebration official until dad's go-to gift - a box of Thorntons Continental - had been handed over.
Chocolate historian Alex Hutchinson recalled that, for a long time, Thorntons shops were offering people across the country the full "Willy Wonka feeling".
While Cadbury's Dairy Milk and Nestle's KitKat may have been the go to chocolate bars, Thorntons forged its own unique niche in the market, she said.
"Thornton's was the artisanal brand, they were the premium, aspirational purchase," said the author and former Nestle archivist.
"As a teenager I thought of them as the height of sophistication and I think that for a lot of people growing up in the UK they were.
"Thorntons was the only place on the High Street where you could go and be surrounded on all sides by chocolate.
"It was the place where you could go and get that Willy Wonka feeling of entering into a kind of chocolate world, and that was very intoxicating."
Thorntons began life in 1911, when travelling confectioner Joseph William Thornton opened a sweet shop in Sheffield.
Originally selling sweets such as Violet Cachous and Phul-Nanas the family did not branch out into chocolate making until the 1920s.
But by 1939 the company had 35 shops selling a range of sweets and chocolates and in 1947 moved production from Sheffield to Belper, in Derbyshire, to meet the growing demand.
The well known Thorntons Continental range was born in 1954, with the arrival of Swiss confectioner Walter Willen, and in 1985 the firm moved to purpose-built premises in Somercotes, near Alfreton.
As recently as 2011 the company had more than 350 shops and more than 200 franchise counters.
It was taken over by Italian food giant Ferrero in 2015, with £45m invested in reviving its dwindling fortunes.
However, between 2016 and 2021 the number of branches shrank from 252 to 61, with Monday's announcement signalling the end of those remaining stores.
Mrs Hutchinson said the firm's demise coincided with the emergence of High Street competitors such as Hotel Chocolat and the growth of independent chocolatiers.
"For a long time Thorntons had a unique place in British chocolate culture and it's such a shame to see so many of their stores close down," she said.
Despite closing their remaining shops Thorntons will retain a presence on the High Street through franchises, and will be available on supermarket shelves and online.
Retail director Adam Goddard said: "Although we will look to move away from trading on the high street, we remain committed to transforming and growing the Thorntons brand."
Related Internet Links
The BBC is not responsible for the content of external sites.