Stargazer captures night sky from Sheffield garden
By Oli Constable
BBC News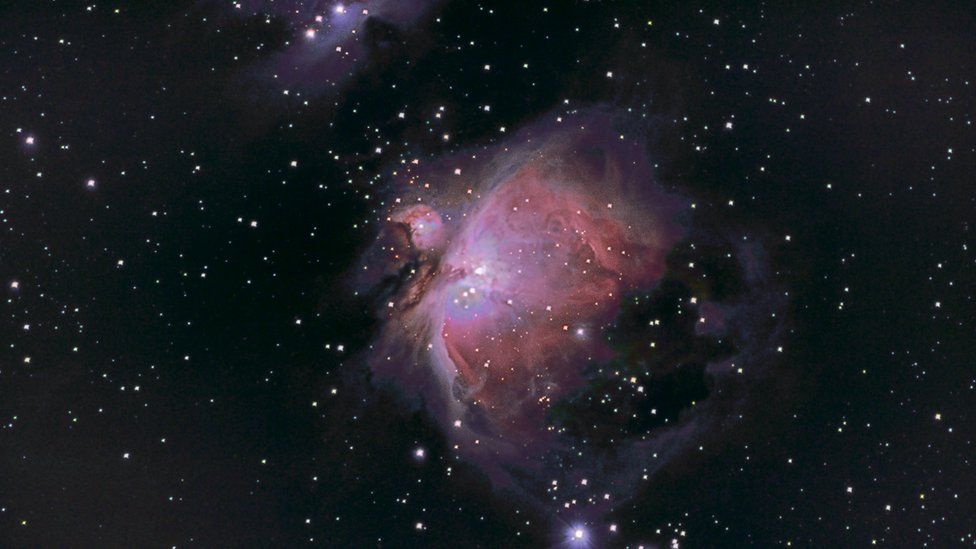 An amateur astronomer has taken "one of his best" photos of the Orion Nebula from his garden during lockdown.
Russell Atkin, from Sheffield, started pointing his camera towards the night sky in 2013, sharing his pictures on social media.
He said it had been an "eight-year learning curve" which saw him travel to Chile before the pandemic.
Covid restrictions have limited Mr Atkin to his garden but his photos continue to impress viewers.
"You can see this with your naked eye, but not in this detail," Mr Atkin said, describing his newest picture of the gas cloud.
"It's the closest region of star birth to Earth and it's about 1,350 light years away."
Mr Atkin's photographs capture light that was emitted from stars before William the Conqueror, Joan of Arc and before the Vikings discovered Greenland.
A tracked mount is used to align the stars and galaxies in the centre of the frame, moving the camera against the Earth's rotation to keep it still.
"You need a very, very dark sky to do long exposures," the 52-year-old said. "A few years ago I went out to Chile and I didn't see anything as dark as that before.
"That was about 6,000ft (1,828m) up in the Andes with no light pollution, no pollution, no moon, so you just get a perfect view of the milky way.
"In Sheffield, you get lots of stray light, you have to fight against that," he said. "Street lights, light from houses, car headlights and we try and see through all that."
His photos have been shared in local Facebook groups, attracting comments from amazed viewers.
"I'm not surprised at the response because these things do wow people," he said.
"I'm a member of the Sheffield Astronomical Society and we do stargazing. When the public come up and look through the telescopes it's like fireworks night - 'Ooh, wow', and the response you get is fantastic."
The final images are made from a number of stacked, long exposure pictures. This helps capture the details of galaxies quadrillions of miles away.
"It's a bit of a dark art to process these," he said. "[One] shot is about 30, two-minute-long shots stacked and aligned to tease out the detail."
During the pandemic, the astronomical society meetings have moved online but Mr Atkin said he can't wait to invite people back to stargazing nights.
"We're really looking forward to letting them have a look at the jewels of the night sky, because it is a fascinating, fascinating subject."
Pictures copyright Russell Atkin or Giselle Woodward, reproduced with permission.
Related Internet Links
The BBC is not responsible for the content of external sites.