Covid: Sheffield school hair salon plan 'risked spreading virus'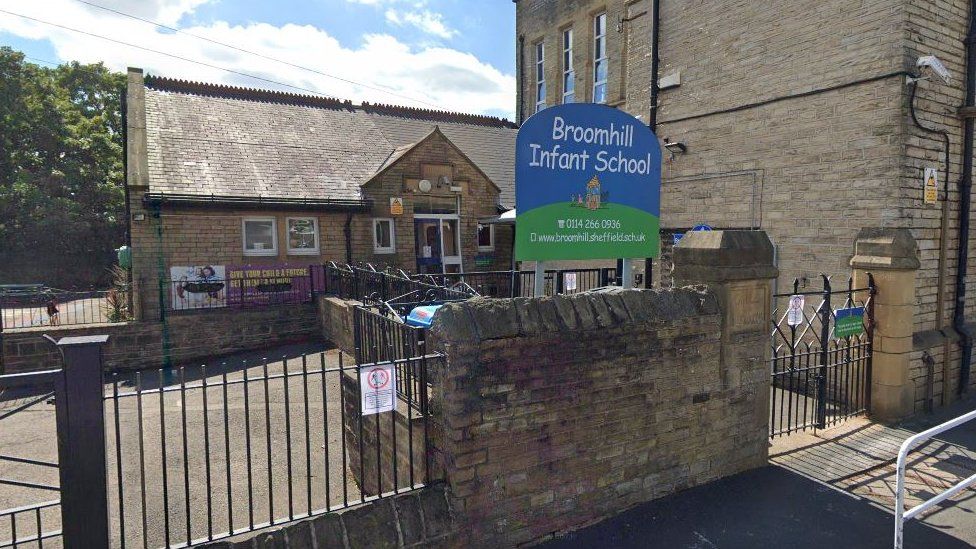 A primary school has been criticised over "totally irresponsible" plans to lay on an "illegal" hair salon.
Staff at Broomhill Infant School in Sheffield were put at risk when they were offered £30 appointments with a professional, the GMB union said.
The union said a "distraught" member had alerted authorities before haircuts went ahead.
A school statement said the "informal arrangement" was immediately cancelled when it was made aware of the risk.
The union said it was told of plans to hold the 3 and 4 March sessions by a worried member.
An email to staff, seen by the BBC, sent on 23 February from head teacher Catherine Timbers says she has asked a former manager of a high-end hair salon to "come into school to cut hair" because "he has a bit of spare time at the moment".
Staff who wanted a cut and blow-dry were encouraged to "sign up", and the note also suggested people may be able to have their hair coloured.
The "temporary salon", organised as part of the school's wellbeing sessions, was shut down on the first day of appointments after a phone call from Sheffield City Council's environmental health team, which had received an anonymous tip-off.
The school was also contacted by police later in the day.
In a subsequent email notifying staff of the cancellation, Ms Timbers said it was a "shame" the event could not go ahead and suggested the complainant "would like to forego their wellbeing day next time".
GMB regional organiser Sue Wood said some staff were "very, very upset", and the union had been told there were six or seven appointments booked.
Ms Wood said the arrangement was "totally inappropriate" and union members working at the school had called for the head teacher to be sacked.
In a statement, chair of governors Derek Grover said no "illegal hairdressing" had taken place.
"When it was drawn to the head teacher's attention that this arrangement contravened Covid regulations, it was immediately cancelled and no hairdressing took place," he said.
Andrew Jones, at Sheffield City Council, said the authority was looking into "the facts around this case".
South Yorkshire Police confirmed it had spoken to the head who told them the plans had been cancelled.
"As no offence was committed, advice in relation to the current restrictions was provided, but no further action was taken," it said.
Related Internet Links
The BBC is not responsible for the content of external sites.