Wentworth Woodhouse: Dog sniffs out rot in 18th Century orangery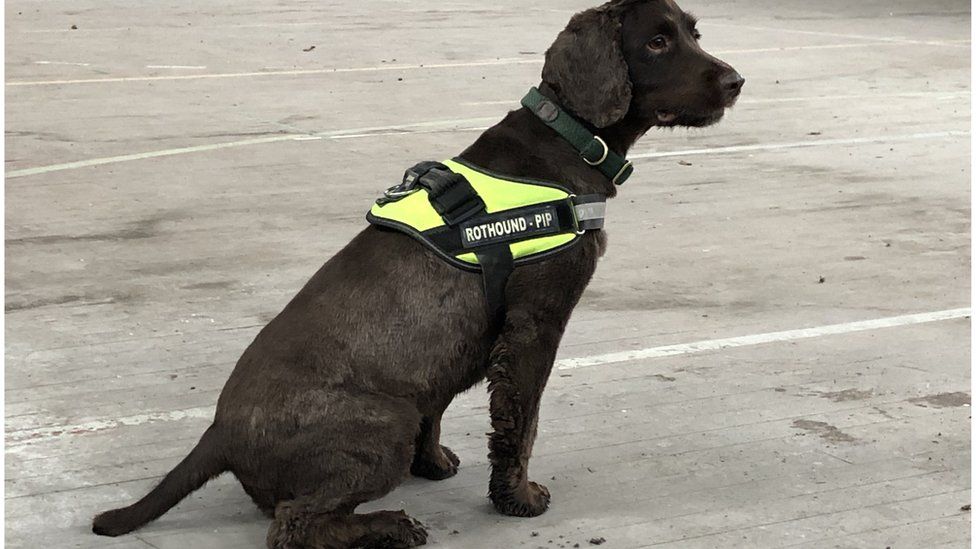 A specially trained dog has been brought in to help sniff out dry rot at an 18th Century building which is currently undergoing refurbishment.
The rot, in Camellia House at Wentworth Woodhouse, Rotherham, is at an early stage and cannot be detected by humans.
Pip the "rothound" has been trained in techniques similar to drug and explosives dogs, smelling out the rot before it causes extensive damage.
Isabel Mar, Pip's handler, said: "Their sense of smell is absolutely amazing."
Rot-sniffing dogs like four-year-old Pip, a sprocker spaniel, undergo 18 months of training so they can then indicate to handlers when they think they have detected dry rot.
The rot flourishes where there is moisture and leads to decay and deterioration of timber. It is related to mushroom and toadstool fungi and has a distinct "mushroomy" odour.
Ms Mar, a specialist surveyor from Hutton and Rostron, one of only two companies in the UK that use dogs to help sniff out rot, said: "To Pip, it's all a game and that's very much how we want it to be.
"It's just a question of getting the dog used to a game of hide and seek."
As Pip sniffs out the dry rot, she is then rewarded with a toy to associate the smell of the rot with play.
Ms Mar said: "When I first get her out the van and show her her high visibility harness, she jumps up because she knows we're going to play her favourite game.
"I would go in with Pip and do an initial sweep and if Pip indicates by lying down, I'll tell my fellow surveyors who will do further investigation in that area."
Grade II-listed Camellia House, in the grounds of Wentworth Woodhouse, is being restored by a preservation trust to bring the derelict building back into use.
The space is being taken back to its original use when in 1738 it was an orangery with a tea room.
It was created for Lady Rockingham, wife of the 1st Marquess, to entertain her guests in the grounds of the stately home.
Related Internet Links
The BBC is not responsible for the content of external sites.