Sheffield children gifted cuddly foxes with matching brain implants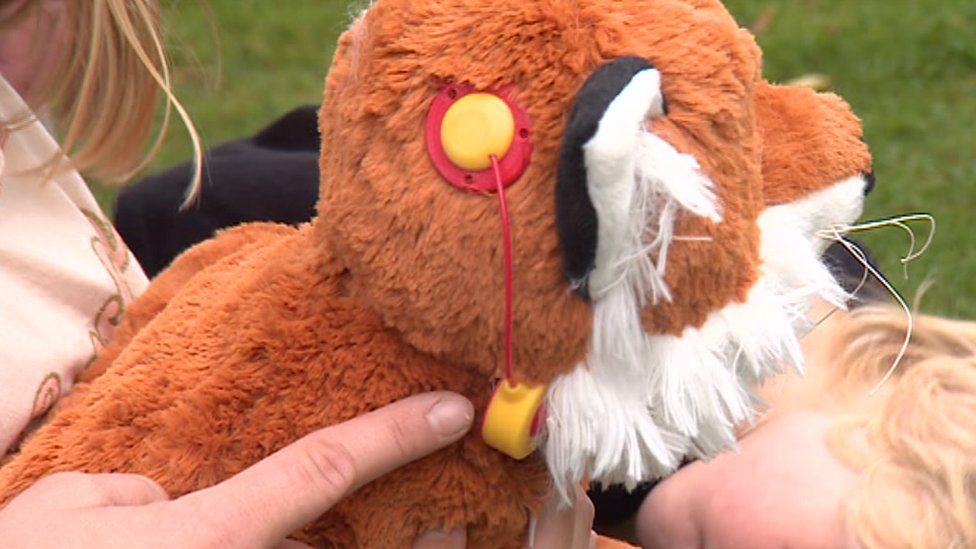 A father has brought a smile to 20 children by creating cuddly fox toys that have brain implants like them.
The Sheffield Association for Spina Bifida and Hydrocephalus gave out the toys as a way to help children understand how their shunts work.
Nick Hardman, uses a 3D printer to create different medical devices which he attaches to toys to help children cope with their illnesses.
One recipient said he loved how the toy was "just like me".
The implants are used for children with hydrocephalus, a condition that leads to a build-up of fluid in the brain and can be fatal if left untreated.
Shunts, similar to those shown on the foxes, are placed inside the brain and a thin tube drains excess fluid to their stomach.
Julie, whose son John has spina bifida and hydrocephalus, said: "I think it's fab because you can show him as many pictures as you want but it's never going to be anywhere near the real thing.
"And it sounds really stupid but that [the toy] kind of explains it all in one.
"He can look at it, feel it and that's better than a picture."
Jess, whose daughter Edith also has both conditions, said: "They're really lovely. It makes it so she can see what we're talking about and what the doctors are talking about.
"It's just a bit easier for her to see what's going on.
Mr Hardman has previously made urine bags, feeding tubes and dialysis machines for soft toys given to other children.