Dame Sarah Storey: Paralympian abused during cycling safety drive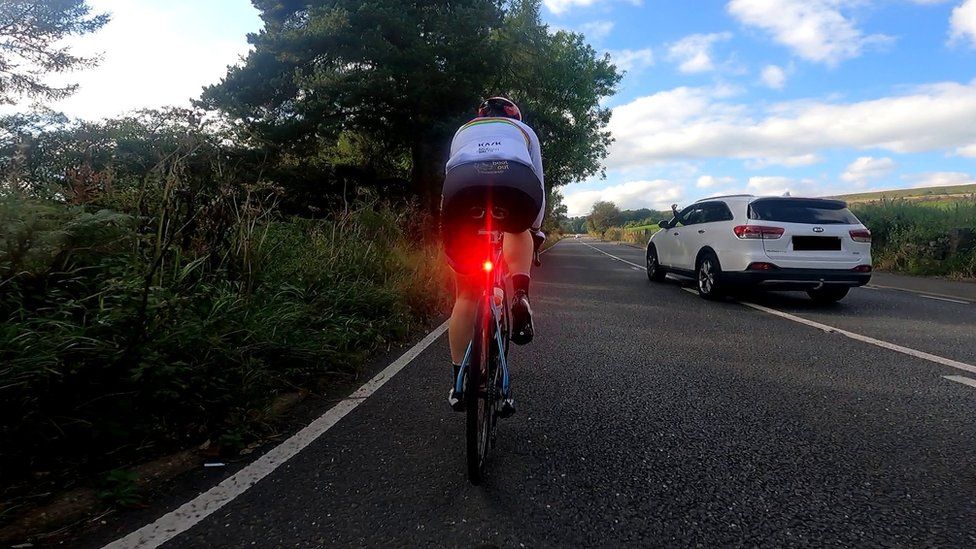 Britain's most successful Paralympian was subjected to a rude gesture from a passing car as she took part in a police cycling safety operation.
Dame Sarah Storey was participating in South Yorkshire Police's safe passing operation on the A57 in Sheffield.
The force said the person who made the "pointless and unnecessary" gesture had been issued with a warning.
Dame Sarah said the operation was "an important step" towards ensuring everyone could use public roads safely.
She tweeted that her role included improving road safety so "everyone can choose to cycle or walk their journeys without feeling threatened".
About the abusive gesture aimed at Dame Sarah, South Yorkshire Police tweeted: "The frustrating thing is the overtake was fine - they waited behind for a good spot.
"The abuse was just pointless and unnecessary."
Dame Sarah, from Eccles, Greater Manchester, said: "We must ensure those who pose the greatest threat of harm are educated, from speed limits being limits not targets, to the appropriate use of a vehicle horn."
She said that while she might be a pro-cyclist, she was also a wife and mother and was "very scared" of certain roads because of the way vehicles were driven on them.
South Yorkshire Police said that during last Friday's operation on Manchester Road, 25 motorists were pulled over and spoken to in a two-hour period.
It said five further motorists, who were not stopped during the operation, would be receiving a Notice of Intended Prosecution through the post.
Officers said a total of 10 prosecutions, for driving without due care and attention and contravening double white lines, would result from the operation.
Three motorists also received warnings which would mean if they were found to be using their vehicles in an antisocial or careless manner again within 12 months then their vehicles could be seized.
Dame Sarah said she was grateful for the police's work on improving road safety, adding: "I hope other forces will follow in making this a priority."
Related Internet Links
The BBC is not responsible for the content of external sites.