Kes: Barnsley unveils statue tribute to author Barry Hines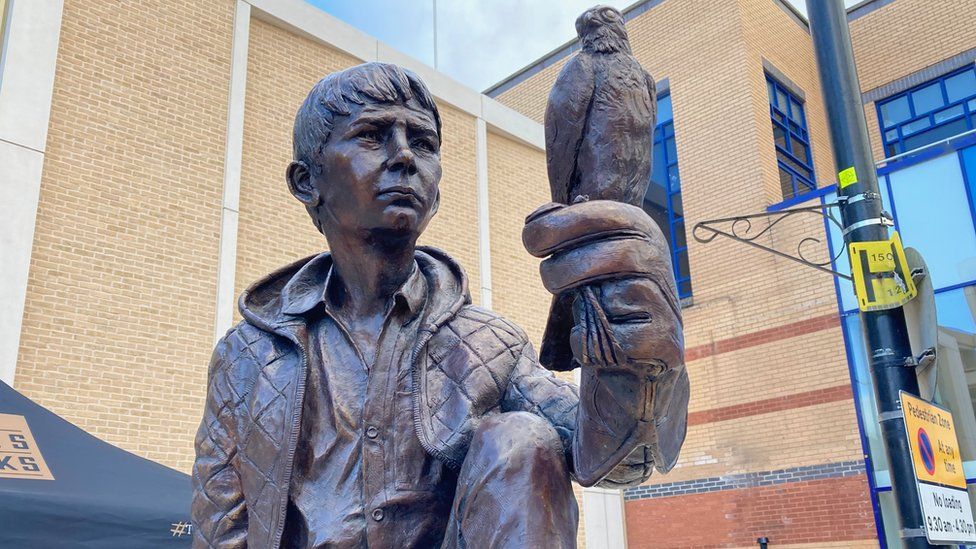 A statue based on the main character from 1960s classic Kes has been unveiled in the author's home town.
Barry Hines, from Barnsley, published the story - of a boy who adopts a wild kestrel - in 1968, and it was adapted for the screen a year later.
Director Ken Loach and star Dai Bradley, who played tearaway protagonist Billy Casper, both attended the unveiling of the bronze sculpture.
Bradley praised the "wonderful" statue, which was funded by public donations.
The actor thanked those who had helped to raise £100,000 and said artist Graham Ibbeson had done a "remarkable job" on the life-sized piece.
He believed it would "inspire generations to come", he said.
Loach said it was a "privilege" to be at the unveiling to remember Barry Hines and his "great writing".
He said the statue of Billy, with Kes perched on his falconry glove, captured the central image of the film.
"A boy, nobody thought he was worth anything, no time for him and yet he had a special quality that we see but no-one else does and that's the bird.
"The bird flies free but he remains rooted to the earth with very few choices."
Sculptor Mr Ibbeson, who donated his services for free, said he had envisioned the statue as a piece that would "go in the street, amongst the community and he is very much part of that community".
His other notable works include the 1984 drama-documentary Threads, which depicted a nuclear attack on Sheffield.
He also taught PE at a local secondary school.
The idea for the tribute came from Ronnie Steele, a former pupil of Barry Hines, who set up a committee to plan the project in 2018.
Related Internet Links
The BBC is not responsible for the content of external sites.