Vuvuzelas banned at Tamworth music festival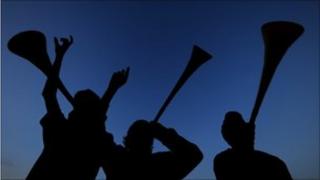 A music festival in Tamworth says it is the first to ban vuvuzelas, calling them a "nightmare in the making".
Officials are the Midlands Music Festival say security will remove any of the monotone instruments found in revellers' backpacks.
The loud, droning, plastic trumpets were a feature of the recent football World Cup in South Africa.
Director Damien Sanders said the potential of Westlife being drowned out was "an absolute nightmare".
'Walk off stage'
Some 44,000 people are expected at this weekend's event at Tamworth Castle Pleasure Grounds.
Spokesman Mike Owen added: "We were slightly concerned when we had someone say, 'I'm bringing my vuvuzela team'.
"We thought 'wait a minute'.
"I don't think the artists would appreciate this. They would have every right to walk off stage."