Plans to save the Wedgwood Museum's artefacts discussed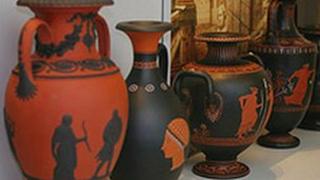 An MP is hoping money from businesses and lottery funds can be put together to make sure a ceramics museum does not have to sell its valuable artefacts.
Stoke-on-Trent MP Tristram Hunt is meeting arts minister Ed Vaizey to discuss the Wedgwood Museum's future.
The museum in Stoke-on-Trent was put in administration in March after the transferral of a £130m pension debt from the pottery firm.
Mr Hunt said he hoped the collection would not be dispersed.
The museum, which remains open, won the £100,000 Art Fund prize in 2009.
Labour MP Mr Hunt said he was not expecting the government to buy the collection but he hoped minister Ed Vaizey would support a plan where organisations such as the Heritage Lottery Fund, the Arts Fund and local businesses could put a funding package together.
Waterford Wedgwood Plc went into administration in January last year with a pension fund shortfall.
The museum is linked to the firm by a shared pension fund, although only five members of the pension plan were employees of the museum trust when Wedgwood's firms became insolvent.