Stafford Hospital public inquiry welcomed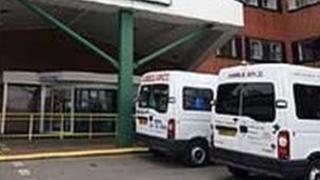 The chairman and chief executive of a hospital at the centre of a public inquiry over its "appalling" standards say they welcome the proceedings.
The full hearing on Stafford Hospital is due to take place later this year.
The inquiry was sparked after a health watchdog reported there had been at least 400 more deaths than expected between 2005 and 2008.
Hospital trust chairman Sir Stephen Moss said there were families who still needed answers.
The inquiry was formally opened on Tuesday and is expected to resume in a few weeks.
Chief executive Anthony Sumara said the hospital had made many improvements since 2009 when the Healthcare Commission revealed poor standards, including cases where receptionists had been used to assess emergency patients.
"The big thing we have done is put more nurses in place.
"We have an extra 140 nurses and we are still recruiting," he said.
He added the hospital had better infection rates, was cleaner and that the trust was working to instil a different culture there.
"I think we have another year's worth of work to make this hospital one of the best in the country," he said.
Mr Sumara and Sir Stephen were appointed to the Mid Staffordshire NHS Foundation Trust, which runs Stafford Hospital, in July 2009, after the damning report was issued.
Despite two previous inquiries campaigners demanded a public inquiry which would compel witnesses to attend and be cross-examined.