More Staffordshire Hoard items on show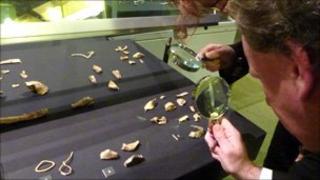 Nineteen pieces of the Staffordshire Hoard have gone on public display for the first time.
They are on display at the Potteries Museum and Art Gallery in Bethesda Street, Hanley, Stoke-on-Trent.
Museum manager Keith Bloor said the function of many of the items was still being researched.
The Anglo-Saxon hoard was found in a field in the county by metal detecting enthusiast Terry Herbert last July.
Mr Bloor said: "Normally this material would stay in the back room while it's being researched.
Money raised
"So we thought we would give the public a glimpse of it.
"And also it highlights the need to do the conservation and the research because a lot of these items we don't really know what their function is."
The latest pieces on display include gold pommels which would have formed part of an ornate fitting on the handle of a sword, silver helmet fragments and various gold mounts, Mr Bloor said.
Experts believe one item is the inlay of a drinking horn.
The remaining pieces are an assorted collection of as yet unidentified items, he added.
The haul, described as the UK's largest find of Anglo-Saxon treasure, comprises 1,600 items including sword pommels, helmet parts and processional crosses.
A total of £3.3m was raised to keep the Staffordshire Hoard in the Midlands. It means the treasure is now jointly owned by the Birmingham Museum and Art Gallery and the Potteries Museum.
The value of the treasure will be split between Mr Herbert, of Burntwood, and Fred Johnson, who owns the farm where it was discovered.