'Progress' for Stafford Hospital, health watchdog says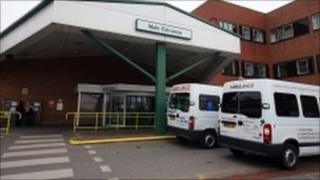 Stafford Hospital has made considerable progress since a report into "appalling" standards there, a health watchdog says.
The Care Quality Commission's (CQC) latest report into the trust which runs the hospital said the trust had worked hard to address issues.
However, it also said there was still some work to be completed.
In 2009 it was reported there had been at least 400 more deaths than expected between 2005 and 2008.
In a report on Tuesday the CQC praised the Mid Staffordshire NHS Trust for changing its culture over the past 12 months, meaning it was more open with a focus on the views and experiences of patients.
Experience improved
It also found that, overall, the experience for patients at the hospital had improved over the past 12 months, and that the introduction of matrons was having an impact.
Care of patients in A&E had improved and there had been good progress in filling nursing vacancies.
However, the CQC also said the trust had not made the progress in handling patient complaints that it would have expected and that there was still a minority of patients unhappy with their experience of care.
Patients are still waiting longer in the A&E department than necessary, and sickness absence among staff is high in some clinical areas.
Hospital chief executive Anthony Sumara said: "We'll get this hospital absolutely right in the longer term.
"I'm confident now we do feel like a normal hospital and patients coming here will be both safe and cared for."
Asked about priorities in the next six and 12 months in areas where there are highlighted issues for improvement, he said: "The most critical one for me is to do with health records or medical records themselves.
"What I've found not just from that report... we've got some pretty awful issues around incomplete medical records and as far as I'm concerned poor medical records cost lives."
Asked about A&E, he said: "They talk about delays in A&E. It's not significantly to do with A&E issues actually.
"It's quite often to do with capacity outside of A&E because they need to transfer their patients out, so there are issues to do with the ward or intermediate care or in some cases in discharging patients back to the community.
"The other issue there is actually I think over a period of time the staff there have probably become risk averse in a sense that they're very over cautious in a sense of keeping patients there longer and over a period of time they'll get better at that."
Speaking previously, Mr Sumara said the hospital had made many improvements since 2009 when the Healthcare Commission revealed poor standards, including cases where receptionists had been used to assess emergency patients.
"The big thing we have done is put more nurses in place. We have an extra 140 nurses and we are still recruiting," he has said.
A public inquiry into Stafford Hospital formally opened on 21 July and is expected to resume in a few weeks.