Crews detach snake from bitten boy in Stoke-on-Trent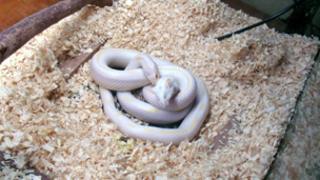 Ambulance crews called out after a boy was bitten by his pet snake arrived to find the reptile still attached to him.
The 5ft 6in (1.7m) snake was coiled around Callum Walters' arm when crews arrived at his Stoke-on-Trent home.
Ozzy, a non-venomous California King, was attached to the 11-year-old's thumb. His arm had been submerged in water in a bid to free the pet.
Emergency care assistant Shaun Smith "managed to gently prise open Ozzy's jaw freeing Callum", the service said.
Callum, of Lightwater, was treated for multiple puncture wounds to his thumb and taken to hospital.
Headquarters visit
He is keeping the pet after last month's incident.
A spokeswoman for West Midlands Ambulance Service said Callum's family had submerged his arm in water in an attempt to free the reptile.
"After a while it became apparent to Callum's family and the crew that the snake wasn't going to give up that easily," she said.
"There was only one thing for it - someone would have to physically attempt to release Callum from the snake."
She added that after Mr Smith's intervention, Callum was now "fighting fit".
He is planning to visit the ambulance service's Staffordshire headquarters to be re-united with the crew and the person who took the emergency call.