Drug given to Stoke-on-Trent woman after web search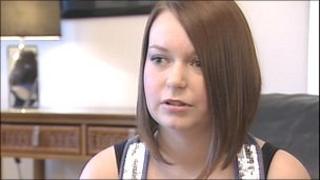 A father has persuaded the NHS to give his sick daughter a drug he found on the internet.
Charlotte Durham, 18, from Stoke-on-Trent, who has a rare brain condition leading to severe headaches, described the treatment as a miracle.
Her father Andy discovered the drug was successful used to help 24 out of 26 patients during a medical study in Greece.
South Staffordshire Primary Care Trust has agreed to pay for it on the NHS.
'Completely amazing'
It said the drug octreotide was "not routinely funded" for the condition, idiopathic intracranial hypertension.
Speaking about her condition, Miss Durham said: "I had this worry of me going blind. All the tablets that they did use made me worse, so I told my mum and dad, 'I'm giving up'.
"That's when my mum and dad said, 'Well we're not giving up, there's something out there that'll cure you'. So that's when my dad got on the computer."
Mr Durham then found the drug, which was used for abnormal growth problem, had been found to help people with idiopathic intracranial hypertension.
Miss Durham had faced the prospects of a "shunt" being put into her head to release the pressure.
In medicine, a shunt is a hole or a small passage which allows movement of fluid from one part of the body to another.
But her father persuaded the University Hospital of North Staffordshire to try octreotide and she was put on a 10-day course.
The primary care trust said the hospital had suggested this drug.
'Put in place'
In a statement, the primary care trust said: "The PCT felt that this case had exceptional clinical circumstances due to the fact that Charlotte's condition is unusual, even amongst patients with similar clinical conditions, and she has not responded to the standard treatment available for this condition.
"Her initial clinical response to the treatment requested has been encouraging.
"The PCT has taken into account that a system of monitoring her response to the treatment has been put in place."
Dr Brendan Davies, consultant neurologist and clinical lead for the North Midlands Regional Headache Clinic, said: "Charlotte's case highlights the need for more funded clinical trial research into the effective treatment of idiopathic intracranial hypertension."
Dr Davies said he was delighted to hear the primary care trust has agreed to fund Miss Durham's "future therapy following her initial successful response" to the drug.
Miss Durham added: "It's a miracle drug. It's just completely amazing.
"I wouldn't dream about taking anything else and now I've tried the octreotide, the shunt has gone out the window."
Her father said: "You'd give your life for your children, you really would.
"I couldn't accept that what treatment was on offer was all there was."