Rugeley mother's 36-week surgery wait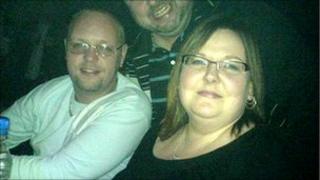 A woman who has waited 16 weeks for surgery to repair damage caused by post-Caesarean infection was this week told she must wait up to 20 weeks more.
Tracey Baugh, 31, went into Stafford Hospital to give birth to twins Brendan and Ethan on 6 November last year.
But three days after being sent home Ms Baugh was rushed back suffering a major infection to her abdomen.
Mid Staffordshire NHS Foundation Trust said it has "no formal record" of a complaint from her.
Ms Baugh's partner and father to the twins is 31-year-old Andrew Howell.
In May he was told he had lost his job at a plumbing call centre because he had to spend his time at home in Rugeley, Staffordshire, caring for his twins and Ms Baugh.
And Ms Baugh is on unpaid sick leave while she waits for restorative surgery to repair a hernia caused by so much tissue being removed in previous operations.
The pair have been told they do not qualify for employment and support allowance or housing benefit.
They were told Ms Baugh may have to wait 16 weeks for surgery, but then the couple received a call from the Walsall Manor Hospital to say that would be extended by up to a further 20 weeks.
'Really unfair'
The surgeon had moved on to a new department, and his patients would need to be redistributed, the hospital said.
Mr Howell said: "They phoned us on Monday to say all the names on the waiting list would be put on the end of the list for other surgeons.
"So we're in a position where we may have to wait up to 40 weeks for the operation.
"Tracey's been really suffering with the anxiety. Every time we get a letter it causes such pain and anguish.
"It's really unfair."
Mr Howell and Ms Baugh say they are considering legal action against Stafford Hospital.
In a statement, Manjit Obhrai, medical director of Mid Staffordshire NHS Foundation Trust, said: "I sympathise with Ms Baugh but unfortunately we have no formal record of a complaint from her to our Trust.
"If Ms Baugh would like to contact me, I would be more than happy to investigate her concerns."
Director of Development at Walsall Manor Hospital, Sarah Smith, said: "The consultant who originally saw Tracey is still working at the Manor and is aware of Tracey's case.
"We will be in touch with Tracey soon to offer her an appointment date."