Probe as 15 wedding guests fall ill at Rocester venue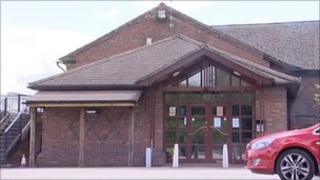 The Health Protection Agency is investigating what caused at least 15 people to fall ill during a wedding reception at a social club.
Six ambulances, an emergency planning officer and a Hazardous Area Response Team were sent to the JCB Lakeside club in Rocester, Staffordshire, on Friday.
Fifteen people were suffering symptoms including diarrhoea and vomiting and three people were taken to hospital.
A JCB spokesman said the venue was hired privately with external caterers.
The club, which is assisting with the investigation, is used by JCB employees "past and present" and regularly hired for private functions, he added.
"We wish those affected a speedy recovery", the spokesman said.
Guests also became ill at home and later called emergency services.
The Health Protection Agency (HPA) said samples had been taken from guests and tests were being carried out on food served at the venue.
Information about the results was likely to be known next week, the HPA said.
A spokesman for West Midlands Ambulance Service said: "On arrival at the scene, crews found a number of patients who had suddenly become ill during a private function.
"Fifteen people were found to be suffering sudden onset of symptoms that included diarrhoea and vomiting.
"The patients were all clinically assessed, managed and treated at the scene with three of the fifteen requiring further hospital treatment.
"Further 999 calls were made to the trust's Emergency Operations Centre from a number of people who had become ill at home who had attended the event.
"Medical advice was provided to these patients."
Anyone else who may fall ill after attending the event was advised to stay at home and drink lots of water.
If symptoms persist for more than 24 hours they should contact their GP or NHS Direct, the ambulance spokesman added.