New community fire station opens in Stafford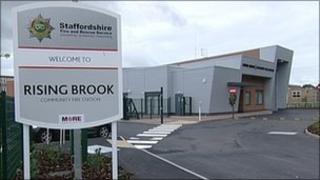 The first of 10 new community fire stations in Staffordshire has opened.
Eighteen firefighters have been recruited for the Rising Brook station, Stafford, which was built under a private finance initiative project.
Firefighters are within five minutes of the station and will respond to incidents when their pager alerts them.
It is the first fire station to open in an area of Staffordshire which has previously been without one, for more than 35 years.
The official opening of Penkridge in November 1972 took place in an area which had not had a station.
The new facility houses one fire engine.
The 18 firefighters have spent the past 18 months working with their colleagues at Stafford Fire Station for operational experience.
Deputy Chief Fire Officer Chris Enness, of Staffordshire Fire and Rescue Service, said: "As the first to open Rising Brook will lead the way and set the standard for the nine community fire stations that will follow."
Members of the community have been invited to the station at special events on weekdays from 9 to 27 August between 1400 and 1600 BST.