Newcastle-under-Lyme roof fall boy returns home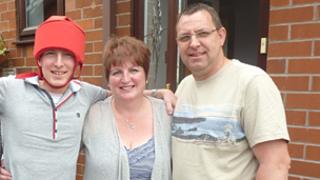 A teenager who suffered 10 skull fractures falling through a school roof nine weeks ago is back at home.
Thomas Buckett, 16, fell 15ft (4.5m) through a skylight of Clayton Hall Business and Language College, Newcastle-under-Lyme, Staffordshire.
The Stoke City fan was in a critical condition after the incident on 30 May and could not walk three weeks ago, but he is now kicking a football again.
His mother, Mandy, described his progress as "an absolute miracle".
Vuvuzela trumpet
She said: "When we go back to nine weeks ago and they told us the extent of Tom's injuries and that it could be fatal, then for them to tell you if he did wake up what he could be left with and to see what he is now is just an absolute miracle."
Speaking about what he is looking forward to most, the boy said: "Just going out with all my mates really. That's what I want when I'm better."
Family and friends welcomed him home with balloons, banners and a vuvuzela trumpet.