Family tribute to missing Polish woman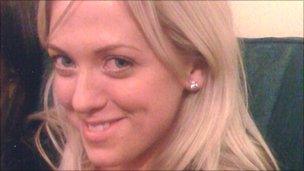 The family of a missing Polish woman who is believed to have been murdered has paid tribute to her.
Police said the last positive sighting of Sylwia Ciapcinska, of Ash Street, Burton upon Trent was on 20 July in the Octagon shopping centre in the town.
Her family said the 24-year-old was "caring, hard-working and intelligent" and her disappearance has left a "massive void" in their lives.
Thomasz Sobczak, of Ash Street, Burton, has been charged with her murder.
The 29-year-old is due to appear in court on 8 October.
Although Ms Ciapcinska, also called Magda by her family, is believed to have been killed, her body has not been found.
Police said on Monday that forensic searches were taking place at her home.
In a statement, her family appealed for anyone with information to contact police.
"Magda was a caring, hard-working, intelligent and popular lady who had her whole life ahead of her.
"The last two weeks have been very painful for us.
"Her disappearance has left a massive void in our lives and we are desperate to be reunited with her as soon as possible.
"We would ask anyone who has any information about where Magda might be to contact Staffordshire Police immediately."
Police said Ms Ciapcinska lived in the town of Zdunsk Wola, near Lodz in central Poland, and had recently graduated with a master's degree in psychology and teacher training from the University of Lodz.
She arrived in the UK on 2 July and planned to stay for about a year to earn money to help her to buy a home in Poland.
Ms Ciapcinska worked at a distribution company called Amethyst Logistics at Fradley Park, near Lichfield, the spokesman added.
Related Internet Links
The BBC is not responsible for the content of external sites.