Stoke-on-Trent man tells of family's lucky roof escape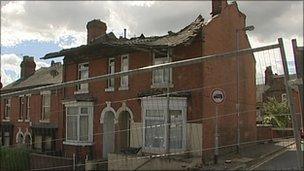 The owner of a house which had its roof collapse and fall into a road in Stoke-on-Trent said his family "are glad to be alive".
Structural engineers are investigating what caused the roofs of two terraced houses in Bath Street to collapse during the early hours of Sunday.
No-one was hurt and there were no obvious signs of fire or an explosion.
Mohammed Amin, 37, who lives in one of the houses, said his wife and four children got out just in time.
Mr Amin, a taxi-driver, had been out working when the roof collapsed.
He said he got a call from his wife soon after it happened and added: "They were just shocked.
"They just got out in time and they are glad to be alive.
"My wife managed to get the children out and the neighbours were very helpful. Everybody is shocked."
He said the whole roof needed replacing.
"That includes the bricks from the front part of the house, the neighbours as well as mine," he said.
Related Internet Links
The BBC is not responsible for the content of external sites.