Burleigh Victorian pottery firm sale agreed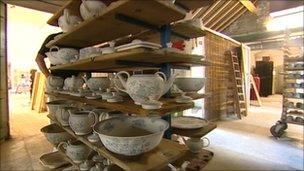 The last working Victorian pottery firm in Staffordshire has been bought out by an earthenware company from Derbyshire.
William Dorling makes Burleigh ware using traditional Victorian techniques and sold his Middleport Pottery firm to Denby Holding on Friday.
Mr Dorling said Denby was committed to the site in Stoke-on-Trent and was recruiting extra staff.
"It's really good news for the workforce and for Stoke to keep its historic workplace," he added.
The company has 48 employees who until three years ago made Burleigh pottery using steam power in a potwork opened by Burgess and Leigh in 1888.
Increased demand in China and Japan means more pottery staff are now needed, Mr Dorling said.
He said the company had been losing money and had to be sold.
Related Internet Links
The BBC is not responsible for the content of external sites.