'Failings' over diabetic who died at Stafford Hospital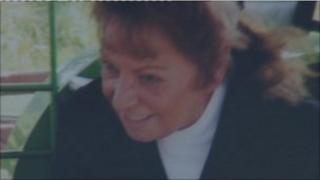 A systemic failure to provide adequate nursing facilities and staffing contributed to the death of a diabetic, an inquest jury has ruled.
Gillian Astbury, 66, was admitted to Stafford Hospital after a fall in 2007 but her blood sugar levels were not properly monitored, the inquest heard.
The failure to administer insulin to her amounted to a gross failure to provide basic care, jurors ruled.
The hospital apologised for the care given to Mrs Astbury, of Hednesford.
Returning a narrative verdict after a two-day inquest, the 10-member panel said the failure of nursing staff to record glucose levels, communicate properly with each other and read clinical notes contributed to Mrs Astbury's death.
Mrs Astbury needed a daily injection normally given in the morning, the inquest at Stafford Coroner's Court heard.
But the jury was told insulin was not administered on the day before her death, despite being prescribed by doctors.
'Too busy'
Stafford Hospital was heavily criticised in a report which showed there had been at least 400 more deaths there than would be expected between 2005 and 2008.
A full public inquiry into the operation, supervision and regulation of the hospital between January 2005 and March 2009 is set to begin next month.
In its verdict, the jury said: "We are satisfied that there were serious shortcomings in systems and in implementation, monitoring and management of the systems in place.
"Nursing facilities were poor, staff levels were too low, training was poor, and record-keeping and communications systems were poor and inadequately managed."
The inquest has been told how Mrs Astbury died in the early hours of 11 April 2007, while being treated for fractures to her arm and pelvis.
Some of the nursing staff were not informed that Mrs Astbury was diabetic and some said they were too busy to check the patient notes at the foot of her bed, the inquest heard.
The jury was told Mrs Astbury's blood sugar levels were checked on the morning of 10 April and found to be "very high" but no medication was given.
Mrs Astbury's daughter, Catherine Beeson, said: "I think basic procedures by the nurses should have been followed out.
"To be honest they're a bit of a disgrace to their profession and they let my mum down."
'Appalling situation'
A police investigation was launched after Mrs Astbury's death, but the Crown Prosecution Service ruled there was insufficient evidence to bring charges.
Antony Sumara, chief executive of the hospital, has apologised for Mrs Astbury's care and the local NHS trust has admitted full liability in separate civil proceedings.
After the jury returned its verdict, the coroner for South Staffordshire, Andrew Haigh, said he intended to write to the hospital to seek reassurance that improvements to care made since the death were being monitored properly.
In a statement issued by law firm Anthony Collins, which represented the family, relatives of Mrs Astbury said: "During the inquest, we have heard that Gillian died because of a catalogue of individual and systemic failures at Stafford Hospital...
"The public inquiry must now ask serious questions of the various regulatory bodies and all levels of the NHS as to why this appalling situation was allowed to happen at Stafford Hospital."
Barrister Simon Michael, who represented the family at the inquest, told reporters that the death was without doubt the worst case of its type he had encountered.
Anthony Collins Solicitors said the family would continue to pursue a civil action and a Human Rights Act claim on behalf of Mrs Astbury's grandson and it was considering submitting reports to the Nursing and Midwifery Council after Tuesday's verdict.