Pottery boss Emma Bridgewater in entrepeneur plea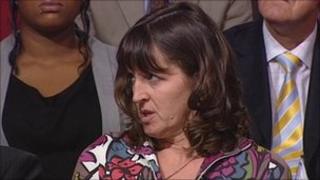 A Stoke-on-Trent boss has said people need to discover an entrepreneurial spirit if the region is to weather the storm from forthcoming government cuts.
Emma Bridgewater said the recession had hurt Stoke, identified in BBC research as being among areas least likely to be able to cope with the spending cuts.
The boss of Bridgewater Pottery told Spending Review: The Midlands Today Debate people had to be resourceful.
The debate in Sandwell examined how cuts could affect the West Midlands.
Her business had managed to survive the recession through a combination of good management and by focussing on the skills of Stoke's workforce, she said.
"Fantastic"
"The traditions there are quite fantastic. There are skills that are really worth using in Stoke," she said.
"It's been pretty tough. But we've got to be prepared to roll our sleeves up and start working.
"We've got to rediscover that entrepreneurial spirit that has always been a great mainstay of this country."
The debate was held at The Public arts centre in Sandwell.
Earlier this month the BBC commissioned research to assess how resilient each of the 324 English council regions were to economic shocks.
Stoke was ranked 322nd out of 324. Only Middlesbrough and Mansfield would find it tougher, the research found.
Local authorities and other bodies are awaiting the results of a comprehensive spending review by the Government.
The results will be announced next month and are expected to show millions being cut from budgets as part of the coalition's bid to reduce the national deficit.