Group walk after Tamworth soldier's death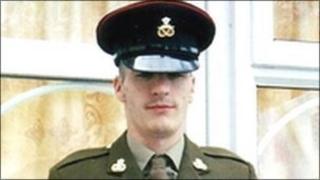 Friends of a soldier killed in Iraq are walking from John O'Groats to Land's End to raise money for the Help for Heroes charity.
Pte Leon Spicer, 26, from Tamworth, Staffordshire, was killed by a roadside bomb in Amarah in July 2005.
Friends of Pte Spicer started the walk on 1 September and laid a wreath on his grave in Tamworth earlier.
The group of seven has raised about £5,000 so far and is hoping to reach £20,000.
Pte Spicer's mother, Bridie Spicer, said: "Just because I haven't got a son.. it just doesn't mean to say that we shouldn't be doing something for others.
"I think if you sit wallowing in self pity and all the rest of it, that's not life.
"Life is for living and get on with it and help them that can't help themselves."