'Hell' of Stoke Asbo witness woman named by police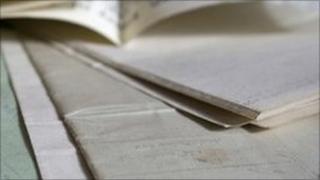 A woman has criticised police after they accidentally revealed her identity to neighbours she had reported for anti-social behaviour.
The 61-year-old said the family put her "through hell" after they saw her name on police statements.
The woman, who does not wish to be named, was given police protection and had to move away from her home in Fegg Hayes, Stoke-on-Trent.
Staffordshire Police admitted the "highly regrettable error".
A spokesman for the force said her evidence had been "instrumental" in officers obtaining a Closure Order against the neighbours involved and they were immediately forced out of their property.
The witness, whose son is a police officer, said the family involved began a "vendetta" against her and her husband after she took tea and coffee to officers who called at the street on a cold January day.
"I had my car sabotaged and they kicked in my fence," she said.
'Lost everything'
However, she said the situation worsened after she reported their behaviour to police and her name was mistakenly left on statements the family saw in the course of proceedings against them.
She said she was the only person who had come forward to stand up against the troublemakers.
"The family knew who I was - it was actually proven in black and white," she said.
She said after that the situation was terrible.
"The perpetrators put me through hell. They chased me through traffic lights in my vehicle and I went through a red light," she said.
"And when I went to see a friend a few doors down the road to have a cup of tea they stood outside the front door and chanted and called me names - then stalked me back to my house."
The woman said at first the force provided protection in her home with hourly visits and a 24-hour camera, but she eventually had to leave the area.
The woman said she was put up in a hotel, and then a series of rented houses which were inadequate.
"I feel as though I've lost everything, I've lost my really true friends I had here," she said.
'Isolated case'
Staffordshire Police said it took anti-social behaviour very seriously.
"We fully understand that certain witnesses will only assist the police on the basis of their anonymity being maintained, and very much hope that this isolated case will not deter other victims from coming forward," a spokesman said.
He said the error was made by the force's legal services unit.
"Systems are now in place to ensure that documents are fully redacted when necessary," he added.
He confirmed the force had "provided significant support" to the woman after the disclosure, but would not give details.
He added the force had paid out damages following legal proceedings against it which were resolved in April.