Stafford campaigners thank Lansley at Tory Conference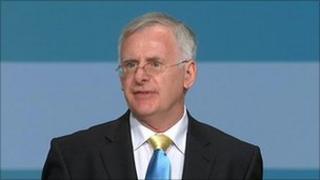 Campaigners calling for a public inquiry into care at Stafford Hospital have thanked the health secretary for allowing one to be held.
Ken Lownds of Stafford campaign group Cure the NHS praised Andrew Lansley at the Conservative Party Conference.
Campaigners called for a public inquiry after a report found about 400 more people died at the hospital between 2005 and 2008 than would be expected.
The inquiry into failings during that time will take place later this month.
Two inquiries were held in private before the public inquiry was announced by the coalition government.
Mr Lownds told the conference in Birmingham: "Our local hospital at Stafford became the focus of attention because of appalling care, and a terrible series of avoidable deaths.
"Sadly, it became an example of what can happen when those responsible for the safety and care of patients lose sight of what they are there for."
'Scandalous failings'
He added: "We need to understand how we can possibly have got to a situation, in a civilised society, in which demeaning vulnerable patients was considered something to be tolerated in the interests of efficiency targets - leaving them without water, crying for painkillers, and telling them to relieve themselves in their own beds."
Mr Lownds thanked Mr Lansley and Prime Minister David Cameron for commissioning the public inquiry, calling their actions a "beacon of hope".
Mr Lansley told the conference the government's reform of the NHS would help avoid "scandalous failings" like those seen at Stafford Hospital.
He said more information would be available about the quality of care at hospitals meaning such problems would not go "unchallenged".
The Conservatives had promised the public inquiry while in opposition after the Health Care Commission's report in 2009 criticised previous "appalling" standards at the hospital.