Complaints fall at Lichfield shops where father killed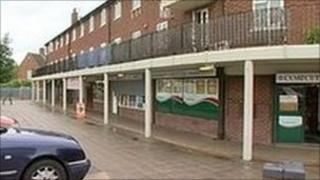 Anti-social behaviour at a Staffordshire shopping centre where a father-of-five was brutally murdered has "fallen dramatically", police said.
Michael Eccles was punched, kicked and stamped on after buying milk from shops in Dimbles Lane. Lichfield, last year. Two people have been jailed for murder.
Staffordshire Police said a series of initiatives had tackled troublemakers in the area over several years.
Complaints have fallen from 126 in 2008 to 13 complaints so far in 2010.
And there were 72 complaints about anti-social behaviour in the Dimbles Lane area in 2009, police said.
Residents said the area had become notorious for troublemakers at the time of Mr Eccles' death in January 2009.
Carl Keatley, 20, and 16-year-old Jordan Carroll, both from Lichfield, were convicted of his murder in August 2009.
Residents said the parade of shops where Mr Eccles was attacked early on a Sunday evening had become a well-known meeting place for youths, with some out of control after drinking alcohol.
Staffordshire Police said initiatives to tackle such behaviour had been going on for several years before the murder.
Action has included police patrols, installing CCTV cameras and the use of "Section 27" powers to get troublemakers to leave an area for up to 48 hours.
Insp Jed White said the community had also played a key role in the success.
"Nuisance behaviour has dropped sharply in the last three years thanks to a concerted effort to tackle ASB and improve public confidence in the Dimbles Lane area," he said.
"We've worked very closely with partners to offer real alternatives to youngsters - such as a badminton scheme set up by one of our PCSOs [police community support officers] for those previously involved in ASB (anti-social behaviour)."
The North Lichfield Initiative has been holding monthly meetings to listen to people's concerns.