River Trent cyanide leak impact 'less than feared'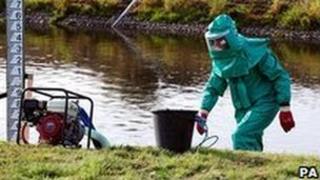 The long-term impact of a cyanide and raw sewage leak into the River Trent is not as bad as was first feared, the Environment Agency has said.
Thousands of fish died along a 30-mile (48 km) stretch between Stoke-on-Trent and Yoxall last October as a result of the spillage.
The agency said restocking reduced the impact, and more invertebrates had survived than was first thought.
An investigation into what happened is still going on.
Red Industries Ltd, a waste company based in Burslem, Stoke-on-Trent, was banned from discharging industrial effluent into sewers immediately after the leak.
The firm said at the time that it voluntarily stopped before the suspension notice was served.
Dave Low, from the Environment Agency, said his team had been monitoring the river for the past year.
"At the time of the incident we put oxygen in the river to try to help mitigate effects of the pollution.
"But we found that surveys indicated that invertebrate life there... weren't as badly affected as the fish, which was a good thing which gave us the opportunity to restock nearly 30,000 fish into the river.
"We'll be doing that again through the next year as well."