Interest stated over Staffordshire beauty spot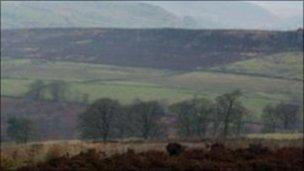 Nine expressions of interest have been made over the future of a Staffordshire beauty spot.
The Peak District National Park Authority has put the Roaches, stretching over 975 acres, up for sale.
The authority said those expressing an interest had not outlined figures, but had broadly given their vision.
It has set out criteria that a buyer has to adhere to and the one that it thinks fits the bill will be sold the area, rather than the highest bidder.
Head of property at the authority Matthew Croney said: "I guess it is an unusual thing to do.
"But the Roaches means so much to so many people for so many different reasons that as a responsible local government, we have to make sure that it goes to the right hands."
Asked what the criteria was that buyers would have to adhere to, he said: "It's really to carry on achieving the National Park statutory purposes that we've managed it for.
"So for conservation, recreation and contribution to the local economy and community. So they're the basic premise on which we were looking for a partner or new owner."
Related Internet Links
The BBC is not responsible for the content of external sites.