'Wrong identity' Italy murder man wants apology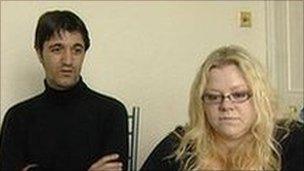 A man convicted of committing a murder in Italy despite not being in the country at the time has said he wants an apology and compensation.
In June the Italian government dropped a bid to extradite Edmond Arapi, of Leek, Staffordshire, who was sentenced in his absence to 16 years in prison.
Fingerprint analysis had confirmed Mr Arapi, originally from Albania, did not murder Castillo Marcello.
He said he was trying to move on with going back to having a normal life.
Mr Arapi, a chef, had been convicted in his absence of stabbing Mr Marcello to death in Genoa in 2004, despite not being in Italy at the time.
On the day of the killing the father-of-three was attending a class toward his chef's qualification in Staffordshire.
He was found guilty by an Italian court in 2006 and arrested at Gatwick Airport in June last year on a European arrest warrant when he returned from a holiday with his wife Georgina.
Mr Arapi went to the High Court in London in June to fight the extradition bid - wearing an electronic tag - and told the court he knew nothing about the 2006 trial.
Lawyers for the Italian government withdrew the extradition request after conceding that Mr Arapi was the victim of stolen identity.
Gemma Lindfield, who represented the Italian prosecutors' office at the High Court hearing admitted the wrong man had been convicted and said the court should discharge Mr Arapi.
The chef's QC said the case was "outrageous" and his client was "a man of exemplary character".
Speaking to the BBC on Wednesday, Mr Arapi said: "[An] apology from Italian authorities would be the best thing that I can get, definitely.
"I was going down to London every month, so all the wages that I was getting from my work, it wasn't going in the house or for the bills or anything like that, it was going in the travel.
"There is going to be a reminder and probably a scar of what went on.
"But it will vanish out of our memory in the future, whether it'll be one, two, five, 10, 20 years."
Related Internet Links
The BBC is not responsible for the content of external sites.