Kidsgrove girl with brain tumour recovers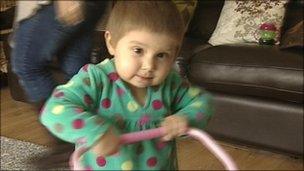 A three-year-old Staffordshire girl has recovered from a brain tumour after well-wishers funded treatment for her in the US.
The public raised £182,000 to send Ruby Owen, of Kidsgrove, to the US for pioneering proton therapy, which is not available in the UK.
A scan a week ago revealed her cancer has gone, but she will need to be monitored regularly for five years.
Her father, Martin Owen, said the public "did us proud".
He said: "Stoke-on-Trent has turned it round and all the other people who were involved, the celebrities.
"In Stoke-on-Trent they know who they are, I don't have to name names, but they were absolutely fantastic."