Family's 'shock' at Wedgwood pension predicament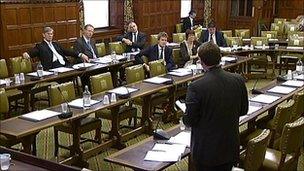 The Wedgwood family says it is devastated at the prospect of a unique pottery collection being sold off to plug a pension fund deficit.
The Wedgwood Museum, in Barlaston, was put into administration in March after the transferral of a £134m pension debt from the collapse of the pottery firm.
MPs debated what to do at Westminster Hall on Tuesday and a campaign is under way to safeguard the Museum Trust.
A final decision will be made by a judge next year.
Alison Wedgwood told BBC News that the collection was treasured.
"The family are absolutely devastated and shocked," she said.
"Also, I think there's really a sense of anger that is probably shared by the people of Stoke-on-Trent and the pensioners and ex-employees because here we have a museum which won a prestigious award last year and here's an amazing collection and suddenly it may all be threatened with a forced sale."
Waterford Wedgwood Plc went into administration in January 2009 and after the Museum Trust inherited its pension debt, fears escalated that it may have to sell valuable artefacts to fill the black hole.
The debate, called an adjournment debate, was called by Stoke-on-Trent Central Labour MP Tristram Hunt.
He said: "It would be a monstrous act of cultural self destruction, a betrayal of those very people that made objects of the great beauty from the soils of Staffordshire if this museum was allowed to collapse."
Bill Cash, Conservative MP for Stone, said: "We have to resolve this.
"This is not just an aberration, this is something which has to be resolved."
Related Internet Links
The BBC is not responsible for the content of external sites.