Wedgwood Collection 'could still be sold'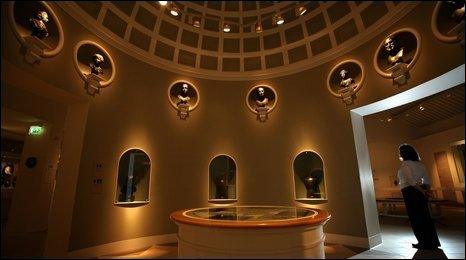 The unique Wedgwood Museum collection does not have protection from being sold off to plug a pension fund black hole, the Charity Commission has said.
The museum, in Barlaston, was put into administration in March after the transferral of a £134m pension debt from the collapse of the pottery firm.
The Commission was asked by the Museum Trust to see if the collection was exempt from being sold.
The Trust has previously said it will take the matter to court.
Waterford Wedgwood Plc went into administration in January 2009 and after the Museum Trust inherited its pension debt, fears escalated that it may have to sell valuable artefacts to fill the black hole.
The Commission described the collection as a "valuable part of Britain's industrial heritage".
In a statement, a spokesman said: "The Commission was asked to provide advice on whether the Wedgwood Collection is held as permanent endowment and might therefore be protected, or whether it is part of the charitable company's corporate property which is available to creditors.
"Unfortunately it is our considered view that the museum's Collection is not protected.
"This decision is not one where the Commission can exercise any form of discretion.
"Our conclusion is based on the facts of the case and the way the law applies to them."
The Commission said usually, the views of its experts were sufficient for trustees but said a court could provide a definitive ruling.
"Because we appreciate that the Wedgwood Collection is a very valuable part of Britain's industrial heritage, and given the importance of what is at stake, we accept that there is a need for absolute certainty and therefore it is appropriate for this matter to be settled by a court," the spokesman added.
"Steps are now being taken which may lead to such a ruling."
Last week, the Wedgwood family said it was devastated at the prospect of the pottery collection being sold.
A group of MPs, including Stoke-on-Trent Central Labour MP Tristram Hunt and Bill Cash, Conservative MP for Stone, debated the issue at Westminster Hall last Tuesday.
Related Internet Links
The BBC is not responsible for the content of external sites.