Stafford Hospital 'must improve further'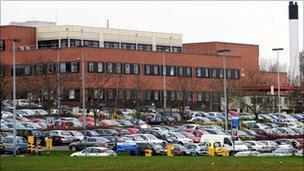 Stafford Hospital must make improvements to "meet minimum standards" of safety and quality, the health watchdog has said.
The Care Quality Commission (CQC) told Mid Staffordshire NHS Foundation Trust the hospital must improve in 11 areas.
But it said the trust had made considerable progress in the two years since a report criticised "appalling standards" at the hospital.
The trust said it had "plans in place to address the issues raised".
The regulator has given the trust's managers 28 days to provide details of how they plan to meet all the standards.
The CQC found services at Stafford Hospital were compliant with five of the 16 essential standards.
However, it outlined "moderate concerns" over the management of medicines, staff supervision and how the hospital deals with complaints.
The CQC said there were "minor concerns" about eight other areas, including the care of patients and safety of premises.
Andrea Gordon, CQC West Midlands regional director, said it would continue to keep the trust under close review.
"I am satisfied that hospital [Stafford] is moving in the right direction, but the trust must not relax its efforts to improve," she said.
"We believe that with the right support the management team at the trust has the capability to make the necessary improvements."
She added trusts had to meet all essential standards or faced enforcement action.
Antony Sumara, chief executive of Staffordshire NHS Foundation Trust, said the trust had itself raised concerns over staff supervision, complaints and the management of medicines during frequent discussions with the CQC and was addressing the issues.
For example, he said more than 90% of staff had had appraisals.
A health watchdog report in 2009 found there had been at least 400 more deaths than expected at Stafford Hospital between 2005 and 2008.
A public inquiry into failings during that time begins on 8 November.
Related Internet Links
The BBC is not responsible for the content of external sites.