Specialist flood trucks unveiled in Staffordshire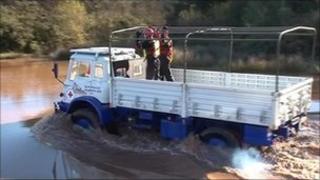 Six trucks capable of travelling through up to 2m (6.5ft) of floodwater are to be based in Staffordshire.
The vehicles, which have been adapted from military trucks, will be used to deliver vital supplies to people hit by flooding around the UK.
Red Cross volunteers trained by Staffordshire Fire and Rescue Service will drive the vehicles.
The trucks, run by the Heavy Rescue Partnership, can carry four tonnes of equipment.
Red Cross volunteer Mark Walker said: "We won't be rescuing people, although we can evacuate if they decide at a late stage to move.
'Follow our lead'
"But you can imagine being in floodwater and having no supplies at all that you can get for yourself.
"So we'll bring food and supplies out to them and blankets and anything anything they need to survive."
Mr Walker drove a four-wheeled vehicle in areas across the country which were hit by the flooding in 2007.
He added: "People were really surprised by how quickly the water came up and by what they couldn't do."
The Red Cross said the new resources helped meet recommendations published in the Pitt Review after the widespread flooding in 2007.
Peter Dartford, chief fire officer with Staffordshire Fire and Rescue Service, said: "It's such a good idea I can't believe we are the first to do this but I'm of course very proud that we are and very keen that others follow our lead."