'Grotesque' to sell off Wedgwood collection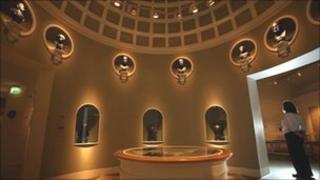 The government has been told it would be "grotesque" if the Wedgwood ceramics collection was allowed to be sold off.
Peers have pressed the government to take action to prevent the breaking up of the Wedgwood Museum.
The museum, in Barlaston, was put into administration after the transferral of a £134m pension debt.
Baroness Rawlings, for the government, told peers the Charity Commission had given consent to allow the courts to decide on the collection's future.
'Extraordinarily important'
The museum's trust was put into administration by the Pension Protection Fund (PPF), a body that safeguards payments to members of defined-benefit pension schemes.
The share of the shortfall due to the museum's own employees was about £60,000.
Labour's Lord Howarth of Newport said the Wedgwood archive was "so extraordinarily important in our country's industrial heritage".
Lord Howarth asked: "Would it not be grotesque if the Wedgwood archive... were to be broken up and destroyed so as to raise no more than a small fraction of the deficit in the Waterford-Wedgwood pension scheme?"
Baroness Rawlings said this was "an extraordinary case".
"The Department for Culture, Media and Sport has helped all along but cannot provide further funding for it."
But she said that if the collection was put up for sale, the DCMS would "attempt to secure the collection for the nation".
"The government cannot influence what the court will take into account.
"The administrator is currently in control of the museum's operations and it will present the case to the court with evidence from the trustees."
She described the £60,000 of pension liabilities accrued by the museum before the transfer of the pottery firm's liabilities as "tiny" compared to the overall sum of £134m.