Stoke-on-Trent sculpture unveiled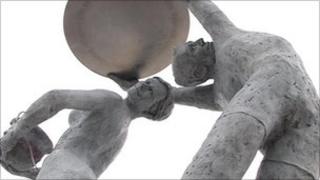 A sculpture to mark 100 years of the federation of the six towns which make up Stoke-on-Trent has been unveiled.
The piece, featuring two intertwining figures, stands outside The Potteries Museum and Art Gallery in the city centre.
The unveiling marks the latest in the city's year-long celebration of the federation's centenary.
However, a finale event, due to be held in Hanley Park on Saturday, has been cancelled due to the wintry conditions.
The city council's deputy leader Ross Irving said conditions in the park and surrounding roads had become "progressively worse" and the forecast was for more snow and freezing temperatures.
"It was felt that organisers could not guarantee the safety of the public and therefore the decision was made by all parties to postpone the event on health and safety grounds," he said.
The event has been rescheduled for 26 March, 2011.
Several schools, mainly in the north of Staffordshire, are closed on Friday and the Met Office has issued a severe weather warning for Stoke-on-Trent and Staffordshire, saying a band of rain, sleet and snow will cross later with snow falls of 2 to 5cm (0.8 to 2in) in places.
Widespread icy stretches are likely to form as rain, sleet and snow falls on to freezing surfaces.