Appeal to keep steam Etruria Industrial Museum open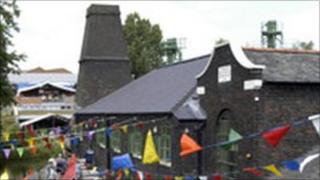 A museum which houses one of the oldest working steam engines in the UK should not fall victim to spending cuts, an historian says.
Fred Hughes, a local historian for Stoke-on-Trent, is campaigning for the city's Etruria Industrial Museum to stay open.
The city council has said the museum's ownership may transfer elsewhere as it looks to make £33m savings next year.
Mr Hughes said to lose the museum would be a tragedy.
The museum is thought to be the last steam-powered potters' mill still working in Britain.
It is "in steam" seven times a year when the 1903 boiler is fired and historic machinery can be seen working.
The machinery was fired up and working on Sunday and Mr Hughes said he feared it could be for the last time.
"I do urge the city to have a real closer look at this," he said.
"Look elsewhere to make the savings. I understand the cuts have to be made but, really, we shouldn't be losing our heritage like this."