Marchington vicar sentenced for child abuse images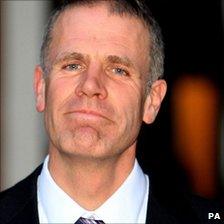 A Staffordshire vicar convicted of downloading indecent images of children has been sentenced to nine months in prison, suspended for two years.
Rev Dominic Stone, of Marchington, was found guilty in November of 16 counts of making indecent images of children at his home on 7 and 8 January 2009.
Six hundred images were found on his personal computer.
A diocese spokesman said Stone had resigned his position but will still go through a disciplinary process.
The judge at Stafford Crown Court ordered Stone to register as a sex offender.
The Lichfield Diocese spokesman said: "His resignation does not remove him from the Church of England's disciplinary process, and while not licensed he remains under the authority of the Bishop."
Church guidelines state there can be no realistic expectation that a convicted cleric can be safely restored into the ministry.
The Bishop of Lichfield will now consult a High Court judge before imposing a penalty.
Stone, a married father-of-two was suspended as vicar of Marchington, Marchington Woodlands, Kingstone and Leigh, when his computer was seized by police in January. He had been in the post since 2002.
He claimed the images had been downloaded by someone else.
Stone quit his post following his conviction.
Related Internet Links
The BBC is not responsible for the content of external sites.