Mother's grief over Stoke killings of son and daughter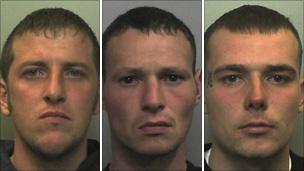 A mother who has lost a son and daughter is separate violent attacks has spoken of her grief.
Pat Freeman's son Robert, 36, died in a "frenzied attack" in Stoke-on-Trent last year as three men tried to get money and drugs.
The three have just been convicted of killing him and have been jailed.
Ms Freeman's daughter Julie was beaten to death by a boyfriend in 2005. Police have described the deaths as an "appalling co-incidence."
Gareth Dennis and Michael Grocott, both 29, of Longton, were found guilty of murder and sentenced to life on Thursday.
Tom Boyd, 21, of Bentilee, was given seven years for manslaughter.
Boyd was also found guilty of unlawful wounding.
Dennis and Grocott were given minimum tariffs of 17 years and 14 years respectively.
After the sentencing Ms Freeman said she had not had a decent night's sleep for the five years since her daughter's death.
Heroin addict Jason Griffiths, from Stoke-on-Trent, was convicted and jailed in 2006 for killing Julie Freeman, 29, in a Longton alleyway.
"Four years later, to the very day, my son Robert was stabbed to death in his own home by three drunken yobs who didn't have a care for anyone," said Ms Freeman.
"And they'd have settled for doing it to anyone," she said.
Her sons had phoned her earlier that day to check on her welfare on the anniversary of Julie's death.
"We talked for quite a while because they wanted us to know that, although we weren't together to remember Julie, they were thinking of her," she said.
She said four years after Julie was killed, life had started to get easier. But by that evening her son was dead.
"And why? We'll never know the real truth.
"Having been through one trial, the second has been awful.
"It's unbelievable that we've had to sit and listen to the horrific events of that day all over again," she said.
Det Insp Andy Wall, of Staffordshire Police, said Mr Freeman had suffered appalling injuries and that "horrendous force" had been used.
"These men were intent on getting drugs and money, whatever it took," he said.
"Tragically that meant Robert Freeman's life.
"On behalf of both the force and the Freeman family, I would like to thank the local community for their support in difficult circumstances.
"We realise that many who have helped the inquiry were nervous or apprehensive about getting involved, but the fact they did has been instrumental in bringing the men to justice."
Related Internet Links
The BBC is not responsible for the content of external sites.