Staffordshire Moorlands supermarket plan splits opinion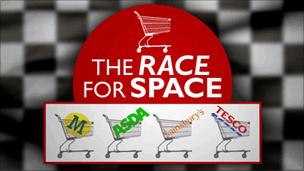 Large supermarkets opening up in rural areas will change the economy of nearby towns for good, a councillor has said.
Steve Povey, UKIP member for Leek South, spoke as developers prepared to start work on a new Sainsbury's store at an old works in Leek.
BBC research has found 577 supermarkets belonging to Tesco, Sainsbury's, Asda and Morrisons were approved in the UK in the two years to 1 November.
In Staffordshire nine were approved, three in the Moorlands.
The development is at the Churnet Works site, near Leek, a town in the rural Moorlands.
Last week, Sainsbury's was given permission to build a 6,834 square metre development including a supermarket, restaurant, three more retail units and a petrol station.
In addition, the store is to give Staffordshire Moorlands Council £395,600 for projects such as enhancement of the town centre and the arts.
Protesters objecting to the planning application said the site was too far out of town and would be in direct competition with the town centre.
But traders close to the out-of-town site were supportive, saying it would bring life to the area.
Michael Adenmosun, a regional developer for Sainsbury's, said the development included a number of units for existing tenants on the site.
"We are talking about residential development as well as some additional retail," he said.
"We have a large area of public open space," he said.
He added: "It is going to enable a number of businesses which have been in Leek for many years, the dying works, the printers, to continue their legacy and move forwards with brand new facilities."
Mr Povey said the store would change Leek.
"It will change the town centre - we are a tourist town. We have a lot of charity shops, just like every other town.
"People will go and shop out of town."
Patrick Redmond of Leek Chamber of Trade and Commerce said the council had made the wrong decision.
"Sainsbury's should have thought of a site in the town centre and worked with the Chamber of Trade to properly formulate a scheme that would have had everybody satisfied," he said.
Related Internet Links
The BBC is not responsible for the content of external sites.