Biddulph lung disease girl's donor appeal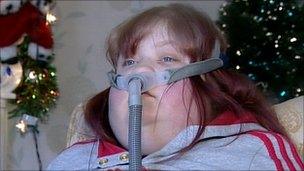 The family of a girl from Staffordshire who has waited three years for a lung transplant have made an urgent appeal for more donors to come forward.
Katy Savage, from Biddulph, has a severe lung disease and has described being on the waiting list as "hell".
Her father, Ian, said his daughter's life was "in the balance" and has urged people to register as a donor.
"If you sign up to the register, you are giving people the chance of life," he said.
On her blog, Katy describes her condition - obliterative bronchiolitis (OB) - as a rare and currently irreversible lung disease that occurs after injury to the lower respiratory tract.
Her breathing is assisted and she needs help to get around her home.
She said: "Waiting on the list is hell because you are always waiting for the phone to go.
"You just want to get better. It's so hard."
She urged people to become donors.
Related Internet Links
The BBC is not responsible for the content of external sites.